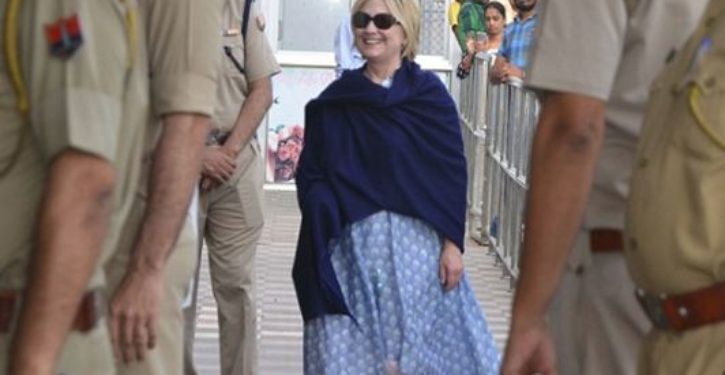 [Ed. – Don't go away mad, just go away.]
Nobody's talking about it, but President Trump appears to have kicked his habit of rehashing the 2016 election. The same, however, cannot be said for Hillary Clinton, and some Democrats have just about heard enough.

Last night we reported that Clinton's own former campaign manager Patti Solis Doyle slammed Hillary over her bizarre recent comments. This morning, the Hill reports that some of Clinton's former aides, surrogates and ideological peers are echoing this, and saying the former presidential contender should maybe tone down the carping about the 2016 election. Many, are in fact angry, and believe it's harmful to the party.

And for anybody who isn't Hillary Clinton, apparently, it's fairly obvious why somebody might want this. During a conference in India this weekend, Clinton boasted that states that backed her in the election were more "economically advanced" than states that backed Trump. That remark echoed another Clinton gem – her famous "basket of deplorables" comparison – which helped galvanize popular opinion against the former first lady by exposing her for the out-of-touch elitist she is.
Trending: Police Officer And 3 Others Die After Authorities Find 12-Year-Old Boy Shot In The Face