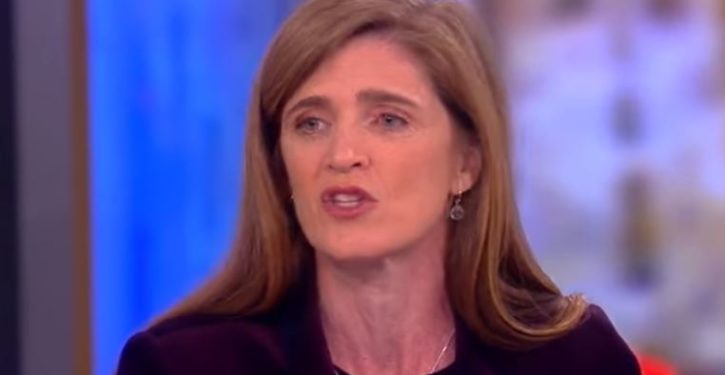 [Ed. – Not that there's a Deep State or anything.  But it seems that Power — along with leading-light Chuck Schumer — thinks there's one.]
Earlier today, former CIA director…John Brennan…totally lost his sh** after President Trump did his little happy dance to celebrate the firing of Andrew McCabe.

[Cue vapid triumphalist tweet from indignant Brennan. – Ed.]

This prompted Samantha Power, the architect of the al-Qaeda takeover of Libya and the ongoing genocide in Syria and the person who unmasked the identities of at two U.S. persons every workday because the duties of UN Ambassador made it necessary, to give President Trump a stern warning.
Not a good idea to piss off John Brennan. https://t.co/VLg94OLL2R

Trending: Why was repeat sex offender given slap on wrist after attack on 10-year-old girl in public john?

— Samantha Power (@SamanthaJPower) March 17, 2018
Really?
For your convenience, you may leave commments below using either the Spot.IM commenting system or the Facebook commenting system. If Spot.IM is not appearing for you, please disable AdBlock to leave a comment.