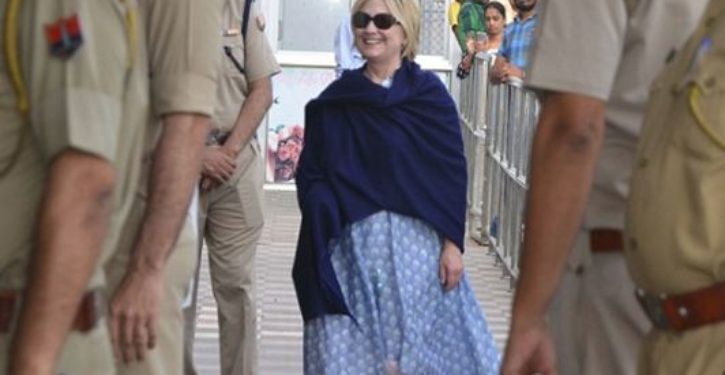 [Ed. – Hide it from whom? Who is she trying to impress?]
Two days after a nasty fall in a hotel bathtub left Hillary Clinton with a broken wrist, the former Secretary of State was spotted making the best of a bad situation while continuing her tour of India.

Hillary was seen in Jaipur on Thursday where she appeared to be adopting an out-of-sight and out-of-mind approach to her recent injury by wearing a kurta that had been customized to make one sleeve longer than other.

To achieve this, the loose and flowing top was wrapped tightly around Hillary's torso, transforming the once comfortable piece into a more constricting look complete with an empire-waist.

Trending: NYC Mayor extends teacher vaccination requirement to religious, private schools

That allowed Hillary enough extra fabric to cover her wrist with both her top and the shawl she wore while spending her day touring historic monuments alongside gal pal Huma Abedin.

Hillary's tumble in the tub was actually her third fall of the trip, with the first two coming in Mandu as she struggled to maintain her footing while heading down the steps of the Jahaz Mahal Palace on Monday.