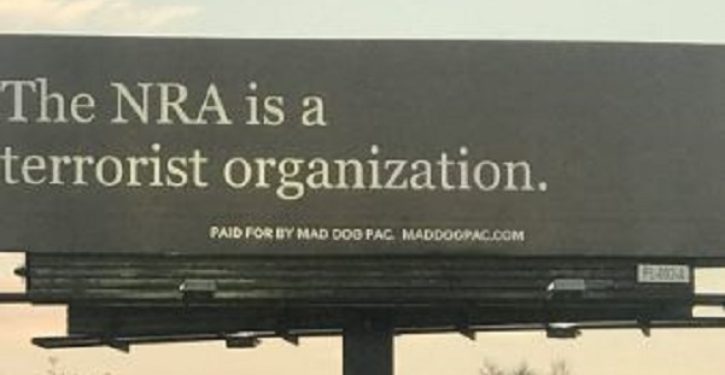 [Ed. – Owning a gun makes you a terrorist.]
 A controversial billboard targeting the National Rifle Association (NRA) is drawing fierce criticism and some praise from locals. The billboard accuses the NRA of being a "terrorist's organization".

The billboard that sits off W Street in Escambia County has already caught the eye of many people and what it says has drivers doing a double take to read it.

"I'm offended by it and I think it's just ignorance," said Rick Bankston.

Trending: Things that are not a solution to any public-policy problem

"I agree with that billboard, yeah," said Amanda Hutchinson.

The message on the billboard comes weeks after a former student killed 17 people with a military style weapon at Stoneman Douglas High School in Broward County.

Amanda Hutchinson has been a gun owner her whole adult life. She wasn't surprised to see it. She feels there needs to be stricter policies and regulations for military weapons.

"I'm an Army brat, nobody needs a military weapon, nobody. If you're hunting with a military weapon you're not a hunter," Hutchinson explained.