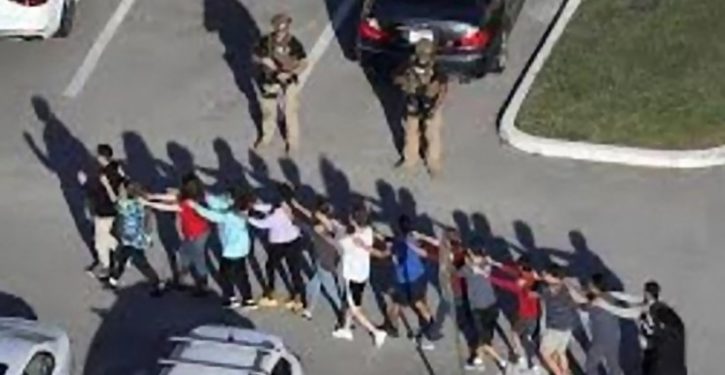 [Ed. – Stand down.]
A sheriff's office captain told deputies to form a perimeter instead of rushing into the Florida high school where 17 people were killed in a mass shooting, according to documents obtained by the Miami Herald.

The newspaper reported late Thursday that it had obtained a partial Broward Sheriff's Office dispatch log, which showed that Capt. Jan Jordan gave the order for deputies to establish a perimeter.

An earlier report on the call logs published by Fox News showed that the shooting at Marjory Stoneman Douglas High School would have been over by the time Jordan gave her order.

Trending: Dems' proposed law would effectively cut off gun ownership at the source

However, the log may raise fresh questions about the department's handling of the mass shooting on Feb. 14, including whether police could have gone in sooner to help the wounded.

"If detectives had answers to all of the questions, then there would be no need for an investigation," sheriff's office spokeswoman Veda Coleman-Wright wrote in an email to the Herald late Thursday.

Sheriff Scott Israel has said his office's training and nationwide active-shooter procedure call for armed law enforcement officers to confront shooters immediately rather than secure a scene.
For your convenience, you may leave commments below using either the Spot.IM commenting system or the Facebook commenting system. If Spot.IM is not appearing for you, please disable AdBlock to leave a comment.