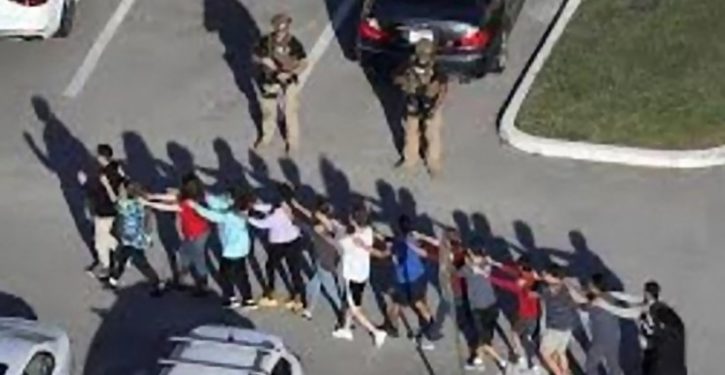 [Ed. – Frankly, if Israel doesn't resign, Rick Scott needs to step in and conduct an independent investigation of the sheriff department's actions.  Kind of don't understand why that hasn't been started already.]
The Broward Sheriff's Office captain who initially took charge of the chaotic scene at a Parkland high school where 17 people were killed told deputies to form a perimeter around the deadly scene — which they did instead of going in to confront the shooter, according to a partial BSO dispatch log obtained by the Miami Herald.

Capt. Jan Jordan, commander of BSO's Parkland district, gave the order, the log shows, identifying her by her police call sign.

Broward Sheriff Scott Israel has said BSO training and nationwide active-shooter procedure call for armed law enforcement officers to confront shooters immediately rather than secure a scene. …

Trending: Gunpoint Robbery: Armed Thieves Steal Nearly $100,000 In Jewelry From Guests At 4-Star Hotel In Los Angeles

Before being appointed to command Parkland, Jordan was assigned to BSO's civil division, which serves subpoenas and injunctions, according to her online biography. She was previously with the Fort Lauderdale Police Department, where Israel also worked.