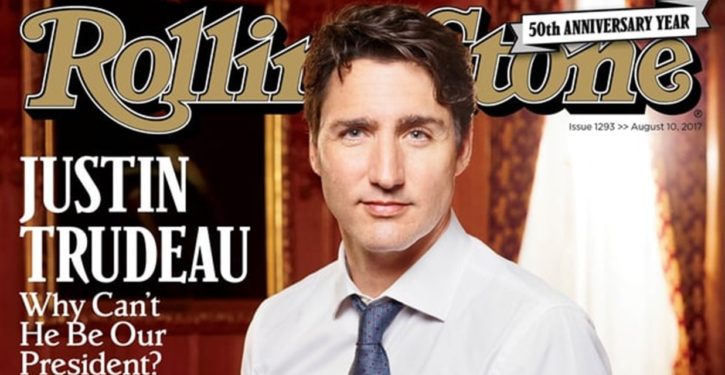 [Ed. – The Canadians have all the fun.  I suppose they're derp-hip enough to be calling him "Turdeau" up yonder-north, as some Yanks are doing.]
The PM has already chalked up a pretty good list of greatest gaffes.
Some are just goofy, like his claim that we need to "rethink concepts as basic as space and time." …
Now the PM has added three gaffes in quick succession to his list during recent town hall travels.
Trending: Liberal 'civility' alert: Beer company advocates smashing people over the head with bricks
First, Trudeau objected to a young woman who used the word "mankind" in a question, waving his hand to interrupt her and mansplaining that "we like to say 'peoplekind,' not necessarily mankind." …
During another exchange, Trudeau was asked about his soft-on-terror response to ISIS and his focus on rehabilitation. Incredibly, Trudeau likened returning ISIS fighters to when "Italian families settled in Montreal in the postwar years"…
For your convenience, you may leave commments below using either the Spot.IM commenting system or the Facebook commenting system. If Spot.IM is not appearing for you, please disable AdBlock to leave a comment.