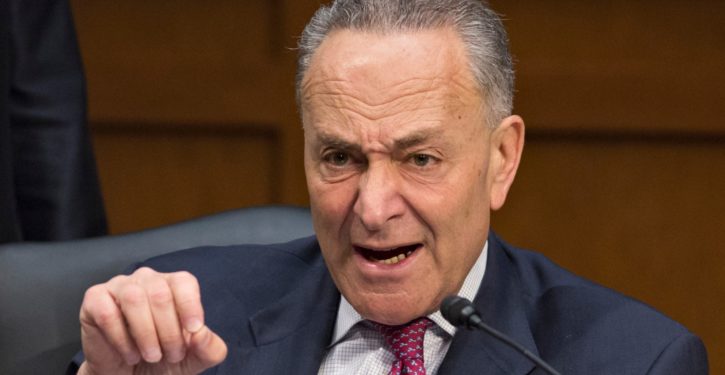 [Ed. – Told you so.  It's a proposal that has what Schumer and the Democrats want in it — but because it also has what Trump wants, it's a deal the Democrats can't make.  It makes them the obstructionists if they can't come up with something else.  We'll see if they can.  But the GOP isn't highly motivated to write the Democrats a different deal — and Trump has their back.  It's 50-50 there's no deal at all before the election in November.  The DACA recipients get another continuance.]
Senate Minority Leader Chuck Schumer … on Friday accused President Donald Trump of using a proposed path for citizenship for young undocumented immigrants as cover for making sweeping — and damaging — changes to the legal immigration system.
"This plan flies in the face of what most Americans believe," Schumer said on Twitter. While Trump "finally acknowledged that the Dreamers should be allowed to stay here and become citizens, he uses them as a tool to tear apart our legal immigration system and adopt the wish list that anti-immigration hard-liners have advocated for for years."
The one-page proposal released by the White House on Thursday would allow as many as 1.8 million young immigrants to become citizens, while also calling for $25 billion in spending on a border wall and security as well as sharply restricting family-based immigration and eliminating a visa lottery system.
Trending: Student wrongly arrested for rating female classmates on Twitter
For your convenience, you may leave commments below using either the Spot.IM commenting system or the Facebook commenting system. If Spot.IM is not appearing for you, please disable AdBlock to leave a comment.