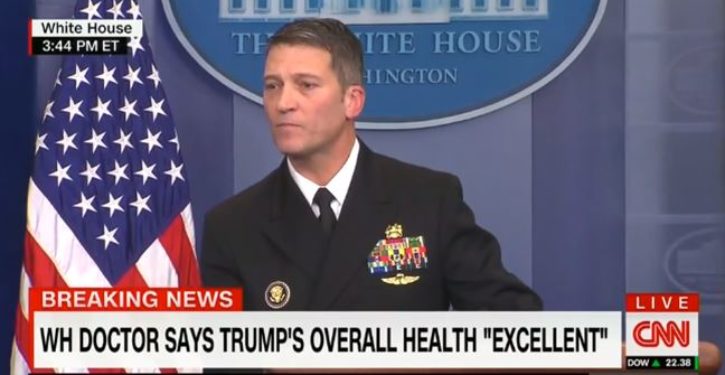 [Ed. – According to doctor, he's not sick or crazy.]
White House doctor Ronny Jackson confirmed on Tuesday that President Trump is perfectly healthy, but reporters are accusing him of hiding something.
Journalists have long questioned the president's mental health and fitness for office, but Dr. Jackson debunked any notion that Trump is unhealthy and called his mental health "excellent."
However, reporters are still unwilling to accept that nothing is wrong with the president and have taken to Twitter to express their displeasure with Dr. Jackson's assessment of Trump.
Trending: Cartoon of the Day: In the bag
CNN's Brian Stelter, who routinely talks about Trump's fitness, wrote that Trump passing a cognitive exam has nothing to do with being "unfit."
"Someone could be sharp as a tack, but still unfit," Stelter claimed.
Here's how the next few hours will go. Trump supporters will say "Concerns about Trump's mental health were always absurd. Case closed now." The obvious response: "The Q's about fitness for office are serious. Someone could be sharp as a tack, but still unfit"

— Brian Stelter (@brianstelter) January 16, 2018
For your convenience, you may leave commments below using either the Spot.IM commenting system or the Facebook commenting system. If Spot.IM is not appearing for you, please disable AdBlock to leave a comment.