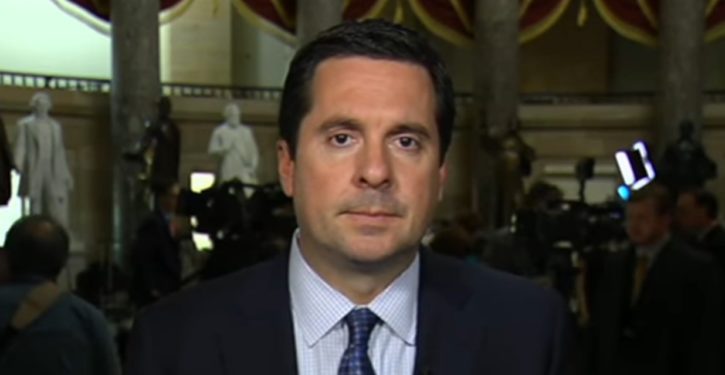 [Ed. – Nunes is speaking now after actually reviewing FISA records at the Justice Department last week.  The Fox News report comes from disclosures about briefings Nunes made to fellow congressmen this week.  As indicated in the report, Nunes wants to arrange for all 435 of them to see what he and a few others were able to review.  This is the most concrete information we've had to date about review of the FISA records outside of the same old, routinely privileged channels.  It's a meaningful step.]
House Intelligence Chairman Devin Nunes told Republican colleagues in two closed-door meetings this week he has seen evidence that shows clear "abuse" of government surveillance programs by FBI and Justice Department officials, according to three sources familiar with the conversations, raising more questions about whether the controversial anti-Trump dossier was used by the Obama administration to authorize surveillance of advisers to President Trump. …
Nunes told GOP lawmakers … he has not seen abuse of that section of the [FISA] law dealing with foreigners, but that other sections of the law have in fact been misused by government officials to conduct surveillance of Americans. …
[D]uring the week of January 1, representatives from four key congressional panels — including the House Intelligence Committee — examined FISA documents from the Obama administration in a secure room at the Justice Department.
Trending: In this SCOTUS case, it's Neil Gorsuch and Sonia Sotomayor against the rest
For your convenience, you may leave commments below using either the Spot.IM commenting system or the Facebook commenting system. If Spot.IM is not appearing for you, please disable AdBlock to leave a comment.