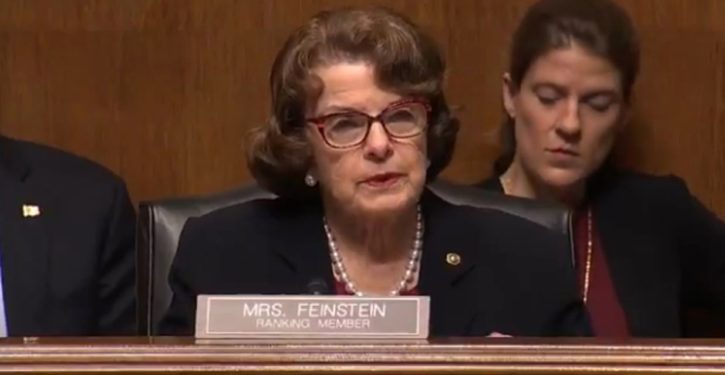 Sen. Dianne Feinstein (D-CA) appears to have made a startling revelation about why she released the Fusion GPS transcripts on Tuesday — she was "pressured" to do so.
The revelation came from CNN Congressional Correspondent Manu Raju, who tweeted: "FEINSTEIN says she's sorry to Grassley for not giving him a headsup about the release of the Fusion GPS transcript. 'I meant to tell him, and I didn't have a chance to tell him, and that concerns me,' she told us. 'I just got pressured, and I didn't do it.'"
Sean Davis, co-founder of The Federalist, was the first to notice the overlooked detail and was quick to point out its potential seriousness. Davis tweeted: "Wait. She was 'pressured?' By whom? That seems like a pretty huge detail. Was it a donor? A party boss? Federal officials? Who 'pressured' her?"
UPDATE: Feinstein later claimed, according to Raju, that she was not pressured to release the transcripts and her office claimed that she "misspoke."
Asked who pressured her, Feinstein says: "I wasn't pressured" without reconciling her two statements. Her office later said she misspoke and wasn't pressured to release transcript.

Trending: Disgraceful: Middle schooler relentlessly bullied because of his last name, which is…

— Manu Raju (@mkraju) January 10, 2018
For your convenience, you may leave commments below using either the Spot.IM commenting system or the Facebook commenting system. If Spot.IM is not appearing for you, please disable AdBlock to leave a comment.