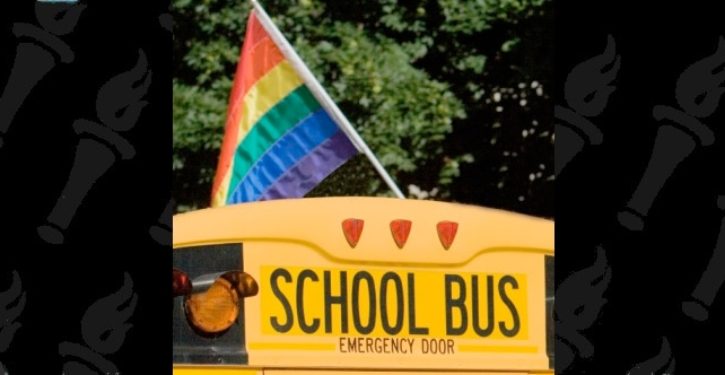 [Ed. – These aren't just textbooks recounting information about known gay, lesbian, etc. individuals. The one cited in the story speculates about the orientation of historical figures, without conclusive evidence.  This doesn't even belong in high school, much less elementary school.  College is soon enough to inject speculation of this kind into a curriculum.  In college, the students themselves are old enough to make choices about what they engage with.  Or, at least, college students used to be old enough.]
California has become the first state in the union to mandate the use of LGBT-inclusive textbooks in elementary schools and have given parents no way to opt out. The choice has been made for them. It's the law.
That law requires a "fair, accurate, inclusive, and respectful" treatment of homosexual, bisexual, transgender, and lesbian Americans despite the historical insignificance.
"We're not trying to make anybody gay; we're not saying there's an agenda; we're not saying that these people are better than other people; what we're saying is this is another group of Americans and they face certain prejudices," said state publisher Mark Jarrett, whose history textbooks include special mention of the sexual preferences of historical figures like Jane Adams, Emily Dickinson, Nathaniel Hawthorne, President James Buchanan, though it's inconclusive if these prominent Americans were gay or not.
Trending: Muslim migrant in Germany beheads 1-year-old, Merkel bans media coverage
For your convenience, you may leave commments below using either the Spot.IM commenting system or the Facebook commenting system. If Spot.IM is not appearing for you, please disable AdBlock to leave a comment.