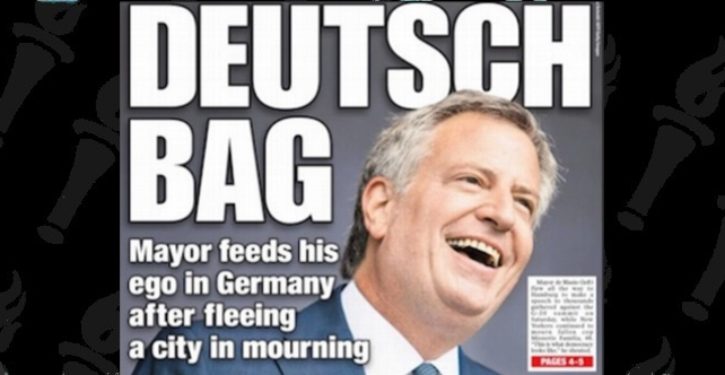 [Ed. – Bill de Blasio's big on other people's inability to think, apparently.  Hard to see why his fellow mayors don't particularly like him, and Democratic politicos aren't anxious to have him run for higher office.]
"There's a lot of people in the political media and the political class who can only think through the prism of elections and only the very next elections, rather than understanding that social change is made in a variety of fashions. It's the electoral process. It's what happens at the local level as well as the national level. It is through issue-organizing," de Blasio argued on POLITICO's Off Message podcast…
De Blasio chalks up the fizzling of his progressive agenda to being overtaken by the Bernie Sanders campaign….
De Blasio bristles when presented with this failure, arguing that it's "banal and simplistic" to expect him to fail at taking his message national now. "I want to talk to anyone who thinks that and tell them they need to start thinking more. I mean, give me a break. So every time someone tries something and it doesn't work, it invalidates anything else they might do going forward? Tell Thomas Edison that, and Henry Ford, tell Mahatma Gandhi. How many people fell on their faces along the way trying things, experimenting with things, had setbacks? There's no leader who hasn't had setbacks."
Trending: Former intel analyst who was in Afghanistan at time of John Walker Lindh capture sets NYT straight
For your convenience, you may leave commments below using either the Spot.IM commenting system or the Facebook commenting system. If Spot.IM is not appearing for you, please disable AdBlock to leave a comment.