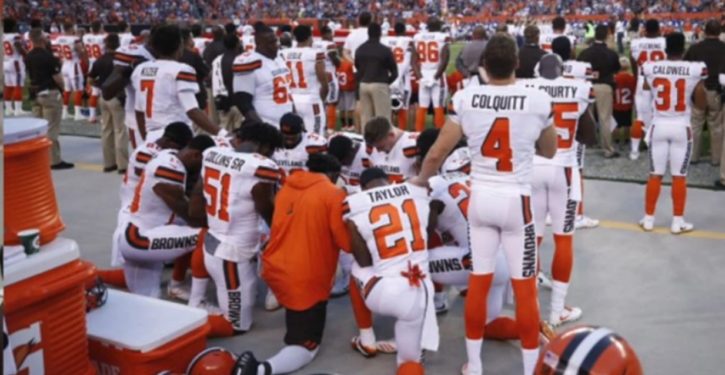 [Ed. – The NFL is so toxic these days it belongs on the special projects funding list of Saddam's notorious Mukhabarat.]
Papa John's founder John Schnatter will step down as CEO next month, about two months after he publicly criticized the NFL leadership over national anthem protests by football players — comments for which the company later apologized.
Schnatter will be replaced as chief executive by Chief Operating Officer Steve Ritchie on Jan. 1, the company announced Thursday. Schnatter, who appears in the chain's commercials and on its pizza boxes, and is the company's biggest shareholder, remains chairman of the board.
Earlier this year, Schnatter blamed slowing sales growth at Papa John's — an NFL sponsor and advertiser — on the outcry surrounding players kneeling during the national anthem. …
Trending: Disgraceful: Middle schooler relentlessly bullied because of his last name, which is…
Papa John's apologized two weeks later, after white supremacists praised Schnatter's comments. The Louisville, Kentucky-based company distanced itself from the group, saying that it did not want them to buy their pizza.
For your convenience, you may leave commments below using either the Spot.IM commenting system or the Facebook commenting system. If Spot.IM is not appearing for you, please disable AdBlock to leave a comment.