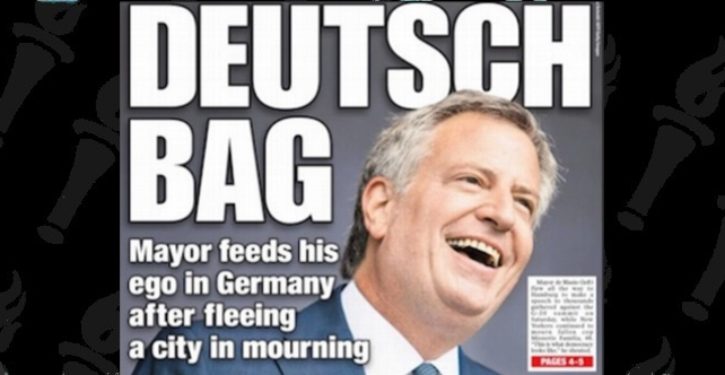 [Ed. – Eventually de Blasio is going to wake up to the reality that the only reason he was re-elected in blue-blue New York is because no one else wanted the job.]
Former NFL player Colin Kaepernick is many things, but a friend to police he is not. Despite this obvious truth, New York Mayor Bill de Blasio thought Kaepernick was the best person to talk to inmates to rile them up against the police who guard them. And the police are rightfully furious.
Kaepernick was invited to tour the famed New York prison and to hold royal court with the prisoners on Tuesday, December 12, according to The New York Post, Kaepernick started his day by having breakfast with Rikers' warden.
Of course, the union that represents guards at Rikers were furious when city authorities invited the notorious cop hating, former San Francisco 49ers player to visit the prison to talk to inmates about so-called "social justice" issues.
Trending: Spygate watch: The 'purge' of Italian intel, and Obama's odd meet-and-greet
There is good reason for police to be upset at the invitation. After all, before his visit, Colin Kaepernick had been a busy fellow.
For one, since 2015 Colin Kaepernick has famously attacked all cops as murderers and racists. Next, during 49ers practice throughout the 2016 season, he wore socks depicting police as pigs. But, city officials invited him to tour Rikers prison, anyway.
For your convenience, you may leave commments below using either the Spot.IM commenting system or the Facebook commenting system. If Spot.IM is not appearing for you, please disable AdBlock to leave a comment.