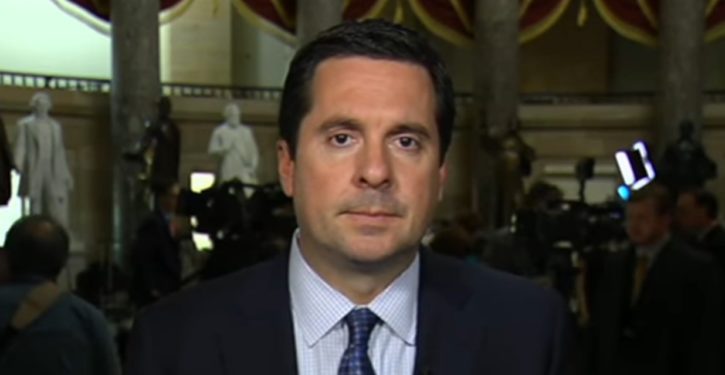 [Ed. – This may be the only place you ever see this.  An independent intelligence panel determined that what Nunes told "the Trump White House" back in February was not classified.  Note the stupidity of even asking this, since the president IS the classification authority for every single thing the United States government deems classified.  And he can designate his dog to receive the information from a congressman, if he wants.  There isn't even one aspect of the procedural "investigations" dogging Republicans in the national security realm that is being operated with integrity or sincerity.]
The House Ethics Committee has cleared House Intelligence Chairman[score] Devin Nunes[/score] in its investigation into whether he disclosed classified information to the Trump White House, which could create an avenue for Nunes to return to the helm of the panel's Russia investigation.
The ethics panel announced Thursday that it was closing its investigation into Nunes after determining the information that the California Republican had disclosed was not classified.
"In the course of this investigation, the Committee sought the analysis of Representative Nunes's statements by classification experts in the intelligence community," the Ethics Committee said in a statement. "Based solely on the conclusion of these classification experts that the information that Representative Nunes disclosed was not classified, the Committee will take no further action and considers this matter closed."
Trending: Spygate: Nunes, 'parallel tracks' against Trump, and origins in 2015
For your convenience, you may leave commments below using either the Spot.IM commenting system or the Facebook commenting system. If Spot.IM is not appearing for you, please disable AdBlock to leave a comment.