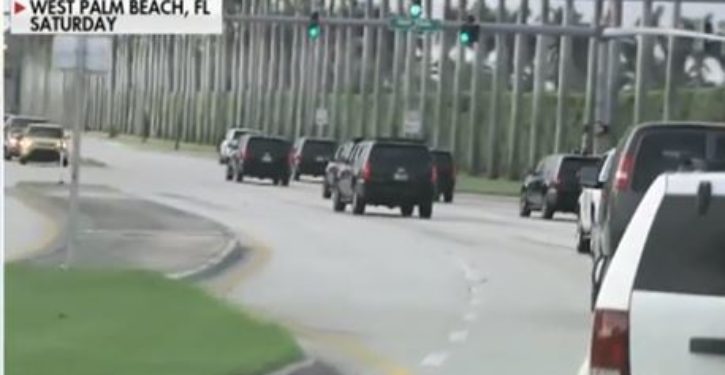 [Ed. – This would be racist if the dateline on the article were Nov. 26, 2016.]
An angry motorist tried to cut his van into President Donald Trump's motorcade in Florida on Saturday afternoon and made obscene gestures as he was pulled over by police.
A White House pool report said the red van "attempted to cut into the motorcade. Local law enforcement pulled over the vehicle, where the driver made obscene gestures and screamed several expletives."
The incident happened as the president was returning to Mar-A-Lago in Palm Beach after a round of golf at the Trump International Golf Club in West Palm Beach. The Associated Press reported that the president was spotted playing a round with 18-time major champion Jack Nicklaus and Nicklaus' son Gary.
Trending: GOP senators demand to see 'highly classified' FBI memo about the Hillary probe
Saturday marked the fourth day in a row in which Trump visited one of his golf courses. On Friday, Trump played with Tiger Woods, Dustin Johnson and Brad Faxon at another of his courses, in nearby Jupiter.
The president is spending the Thanksgiving holiday in Florida and is due to return to Washington Sunday evening.
For your convenience, you may leave commments below using either the Spot.IM commenting system or the Facebook commenting system. If Spot.IM is not appearing for you, please disable AdBlock to leave a comment.