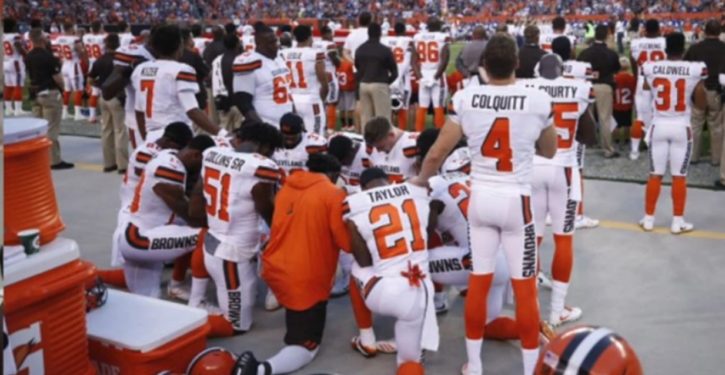 [Ed. – Falling on deaf ears]
On this Thanksgiving, I would like to address an open letter to the multimillionaire National Football League players who continue to take a knee when "The Star-Spangled Banner" is played.
Dear kneeling brothers,
As a proud Army veteran, mom and black American, I thank God that I live in the greatest nation on Earth. For me, Thanksgiving doesn't just come once a year. I'm thankful 365 days a year.
Trending: Obama-appointed judge: Illegal who used fake document to get driver's license didn't break law
I recommend you take the same attitude, to appreciate the many blessings you enjoy.
You make far, far more money than almost all Americans – regardless of race. Kids look up to you as heroes. You appear on TV and in the media.
Yet, you keep on protesting – refusing to rise and respect our national anthem and respect the men and women like me who serve or have served in our military.
I was willing to die for my country when I put on the Army uniform. And you're not even willing to stand up for a short song? This is too much of a sacrifice for you?
For your convenience, you may leave commments below using either the Spot.IM commenting system or the Facebook commenting system. If Spot.IM is not appearing for you, please disable AdBlock to leave a comment.