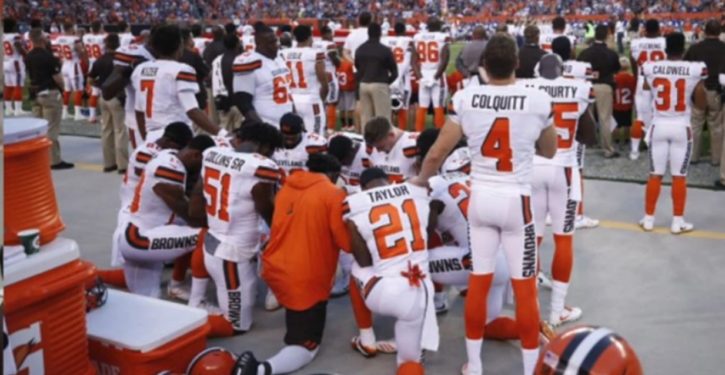 [Ed. – While this isn't all about the NFL or even about politicizing sports coverage — a lot of it is.  It takes motivation and effort to drop your ESPN package (although, granted, some of the EPSN losses are due to subscribers cutting the cable cord entirely).  Bottom line: at least some of these losses wouldn't be happening without the politics-in-your-face approach in too much of sports.]
ESPN is still dragging down the profits of owner Disney Co as fourth quarter fiscal reports come in. It is a pattern that has repeated itself all year.
The latest financial report notes that Disney had an "unexpected" drop in profits and also confirms that ESPN is still losing subscribers by the millions, Reuters reported. …
Revenue from Disney's cable business, which includes ESPN and Disney Channel, fell marginally to $3.95 billion in the fourth quarter, while analysts on average were expecting a rise to $4.06 billion, according to Thomson Reuters I/B/E/S.

Trending: Obama-appointed judge: Illegal who used fake document to get driver's license didn't break law

ESPN, Disney's cash-cow, has been trying to combat subscriber declines by joining smaller bundles of cable channels and developing a streaming service it will sell directly to consumers.
"Disney's total revenue fell to $12.78 billion in the quarter ended Sept. 30 from $13.14 billion a year earlier," Reuters added.
For your convenience, you may leave commments below using either the Spot.IM commenting system or the Facebook commenting system. If Spot.IM is not appearing for you, please disable AdBlock to leave a comment.