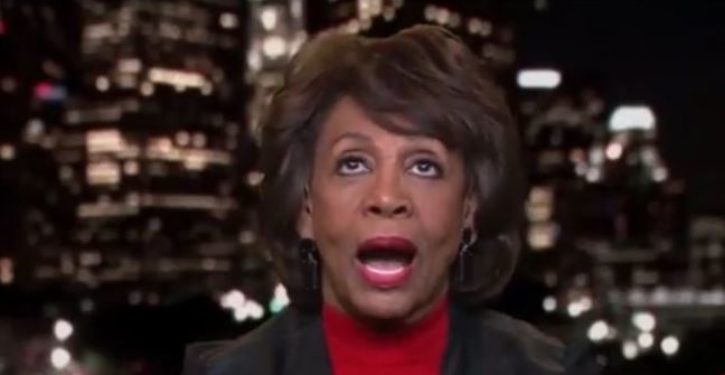 [Ed. – Is the social media giant trying to show it is fair-minded? In the meantime, censoring a black woman? That's racist.]
It's been only four months since Rep. Steve Scalise was shot by a Bernie Sanders fan, but did one of his colleagues advocate violence against the president of the United States?
The one-note impeachment minstrel Maxine Waters promised a group that benefits "homeless LGBTQ youth" that she will "take out" the president — and the liberal audience wildly applauded.
Appearing recently at the Ali Forney Center gala in New York City, it only took Waters 27 seconds before she slammed Trump.
"Wow, what a moving evening this is," Waters began on October 13 in a clip posted Friday.
"I'm sitting here listening, watching, absorbing, thinking about Ali even though I never met him. And with this kind of inspiration, I will go and take out Trump tonight," she said as the crowd roared in approval and Waters pumped her fist.
Just two days later, Waters continued to rant about Trump, this time at a Los Angeles AIDS walk.
For your convenience, you may leave commments below using either the Spot.IM commenting system or the Facebook commenting system. If Spot.IM is not appearing for you, please disable AdBlock to leave a comment.