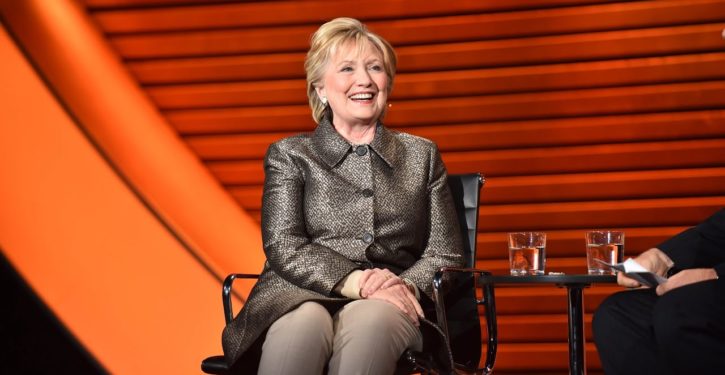 [Ed. – At least it's a different subject from why she lost.]
Hillary Clinton told a London audience Sunday night that Congress is "trying to figure out" how to stop President Donald Trump from starting a nuclear war.
According to Business Insider, the failed Democratic presidential candidate was speaking to dignitaries, including London Mayor Sadiq Khan, at the London Literature Festival.
Clinton claimed that Congress was looking at ways to usurp Trump's ability to ignite a nuclear war by firing a missile at North Korea in a fit of rage.
Trending: 'That's When I Realized He Was A F*cking Idiot': Trump Slams General Milley For Past Military Advice
"A lot of people thought I was probably exaggerating it, but now we are worried and Congress is worried about whether they can take that power away from Trump so that in a moment of pique he doesn't pick up that phone and call whoever is sitting in the control centre today," she told the rapt audience of approximately 3,000.
Clinton was asked if she had concerns about Trump starting a nuclear war and she responded, "I'm worried about that now. I had big differences with so many of the other people who have been President during my lifetime, but I never worried about that."