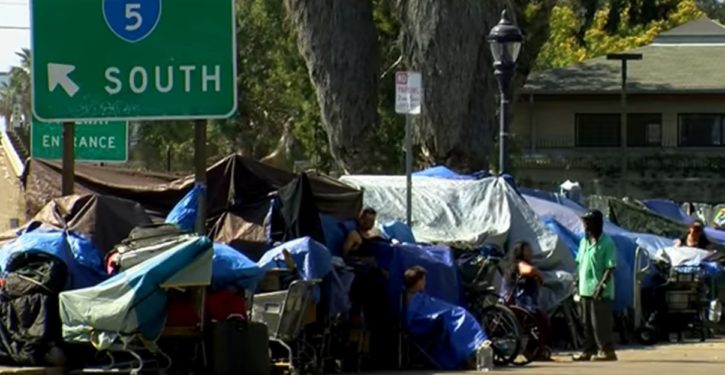 [Ed. – Something you probably only know if you've lived in one of these near-border cities is that many of the people in the homeless encampments are illegal migrants.  It is ridiculous to suggest that it has benefited either them or America, for them to sneak across the border and wind up in homeless camps, where their most likely fate is a short life of drug abuse and violence.  (For that matter, you could probably live in San Diego or one of the immediate suburbs all your life and never see these tent cities.  They weren't there 10 years ago.  I saw the homeless up close and personal because I lived close to downtown and several freeway overpasses — not ramps — where the homeless were already established.  My church also had a big homeless ministry, although for most volunteers that meant providing services at the church itself.  Back then, the police dispersed the homeless enclaves on a regular basis, and it would take a few weeks for them to congregate in the same area again.  See the article for why that changed.)]
The California hepatitis A outbreak is on the verge of reaching statewide epidemic status, as cases have spread through homeless tent cities from San Diego north to Sacramento.
California health officials have reported that at least 569 people have been infected with the hepatitis A liver disease and 17 have died since a San Diego County outbreak was first identified in November. Cases have migrated north to homeless populations in Los Angeles, Santa Cruz, San Francisco and Sacramento over the last 11 months.
Although local and state authorities have tried to underplay the risks and severity of the outbreak, the most recent annual totals for cases of hepatitis A in the United States was 1,390 in 2015, according to the Center for Disease Control (CDC). California only reported 179 cases during the same year.
Trending: Another appeals court rules against Biden Administration vaccine mandate for most workplaces