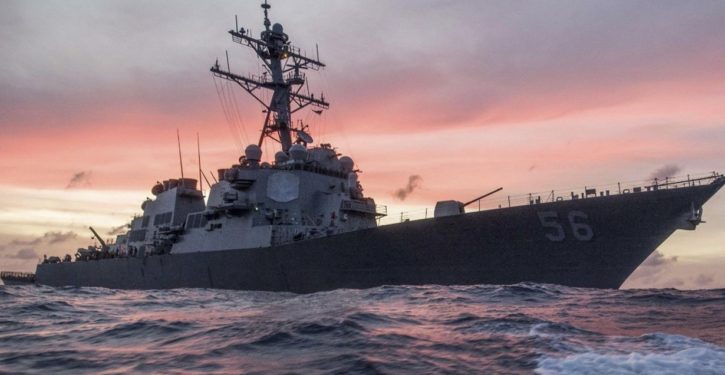 [Ed. – As Bill Gertz says, the unaccountable thing here is why the ship's crew didn't have positions manned for a prompt shift to manual steering if automated steering was lost.  Apparently the assessment is that they didn't.  That would be unthinkable when navigating in a heavily trafficked strait.  Notice, meanwhile, that the Navy apparently still assumes that a cyber-induced failure would have had to be "hacking."  It would not have to be hacking; it could have been malware introduced years ago in a basic steering system that had nothing to do with C4I.  It's good that they're still pursuing it, because it probably wasn't hacking — but it could very well have been a cyber problem, latent and brought to life.  There needs to be a thorough investigation of the ship that rammed McCain too.]
Investigators probing the deadly collision between the guided-missile destroyer USS John S. McCain and an oil tanker last month believe the primary cause was a loss of steering control and the crew's failure to compensate.
Preliminary results of the investigation into the collision show that the two ships hit as the result of what the Navy calls a "steering casualty," a Navy official tells Inside the Ring.
Navy ship drivers and crews routinely practice what to do when steering controls on a warship are lost. The first step is immediately shifting to secondary, manual steering, where sailors in the stern of the ship are directed by internal phone commands from the bridge to manually turn the rudder a number of degrees right or left.
Trending: Recession may occur when people's savings run out
"In this case, it looks like the crew probably didn't do what they needed to do [to avoid the collision]," the official said. …
The Navy has largely ruled out a cyberattack from outside as the cause of the McCain collision, as the steering is not linked to networked systems that could be impacted by a hacker. Still, Navy officials announced last week that a special cybersecurity team was dispatched to the McCain investigation team to look into potential cyberattacks related to the collision.