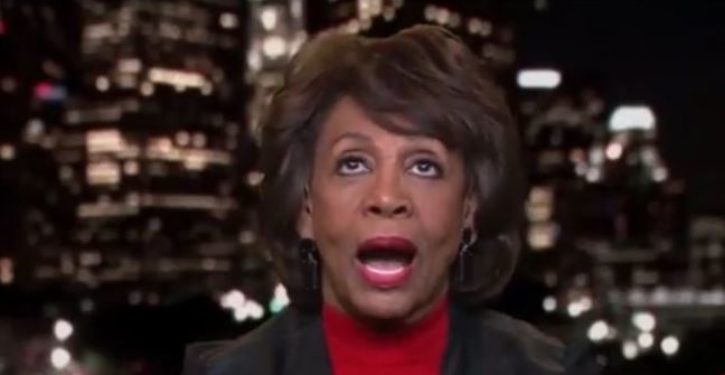 [Ed. – There ought to be a system of "Waters points" for these Freudian malapropisms.  I'd award this one at least 50.]
Appearing before the Los Angeles Community Review Board, Waters launched into Trump, Treasury Secretary Steve Mnuchin and HUD Secretary Ben Carson.
Complaining there is "uncertainty" because of the Trump administration, Waters said, "Mr. Mnuchin, who is the Treasury Secretary, who is responsible for over 36,000 foreclosures in this area, is now the Secretary of the Treasury," repeating herself.
"Standing next to him just yesterday, or day before yesterday, I'm getting these days mixed up," the 79-year-old California congresswoman said.
Trending: If FBI knew about Capitol 'insurrection' in advance, how was Trump's speech the trigger?
She continued, "While the president was defending the white-wing (sic) nationalists and the KKK and all of those alt-right groups that were basically out there in Virginia literally beating and marching and ranting about Jews and black people, etc., etc.," she said.
"But, this is what this Cabinet looks like," she added, turning to Trump's personnel, "where we talking about Mnuchin or Ben Carson," as the audience whooped on the attack.