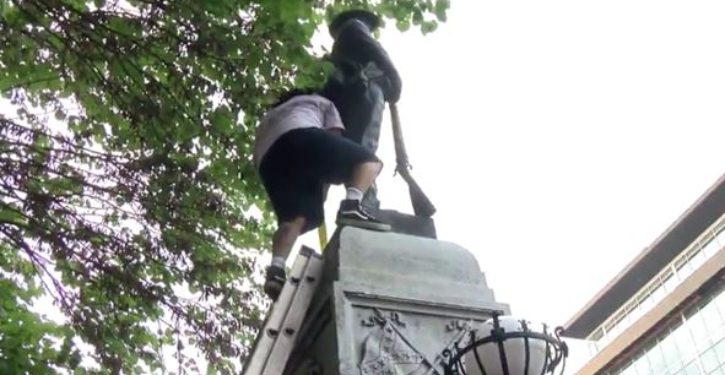 [Ed. – Where we are as a nation.]
In the aftermath of the horror of the Charlottesville riot, there's been less condemnation by the media and the left of the neo-Nazi that is charged with murdering Heather Heyer and injuring at least 19 others than there has been of President Trump.
Americans know full well the environment of hate and violence that identity politics has served us. It has manifested in many ways, including last year during a peaceful Black Lives Matter march in Dallas when an African-American military veteran murdered five police officers. Officials said the sniper was determined to kill as many white officers as possible.
In June, the nation was shocked with the attempted assassination of more than 20 Republican members of Congress. A deranged liberal political activist and Bernie Sanders supporter seriously injured Rep. Steve Scalise and wounded four others.
Now, despite the left and its media cohorts attempting to cast the riot as one-sided, neo-Nazis, the Klan and a Trump-hating anarchist group called "Antifa" gathered in Charlottesville with the intention of doing violence to each other. The end result was the killing of Ms. Heyer, and a related helicopter crash killing two Virginia State Police officers.