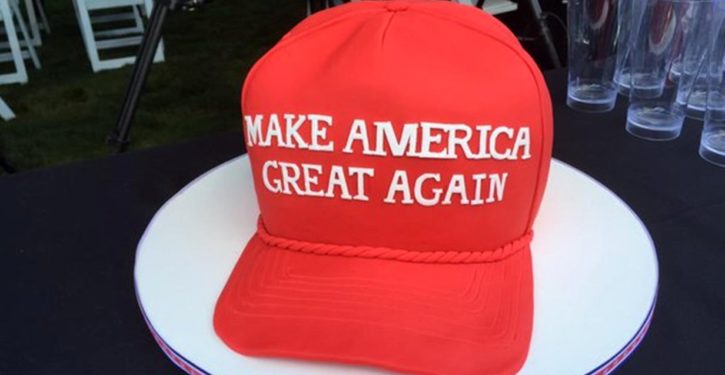 [Ed. – The hypocrisy here is on the part of mandated-baked-goods advocates who insist that bakers must be punished for not making cakes for same-sex weddings.  Why haven't we heard from them about this hateful atrocity committed by bakers in California?  Where are the demands for boycotts, picketing, fines, court judgments, and reeducation for the errant bakers?  H/t: Washington Times]
Have you seen the flap about a boy named Pickle?
He's a 9-year-old boy whose letter to Donald Trump was read by Sarah Huckabee Sanders in a press briefing last week. In his letter, Pickle called Trump his favorite president and asked if they could be friends. …
Pickle's real name is Dylan Harbin, and he lives in California. When his third-grade class was learning about the presidential candidates and held a mock election, he liked Donald Trump the best.
That inspired Pickle to ask his parents for a Donald Trump-themed birthday party, complete with a Donald Trump suit and a cake in the shape of the "Make America Great Again" baseball caps. The Post reports:
"…[W]hen Pickle asked for 'a Donald Trump suit' for his birthday, [his mother] bought him one, and when he asked for 'a Donald Trump cake,' she made him one herself, because she couldn't find a bakery willing and able to do it."
That's interesting: "she couldn't find a bakery willing and able to do it."