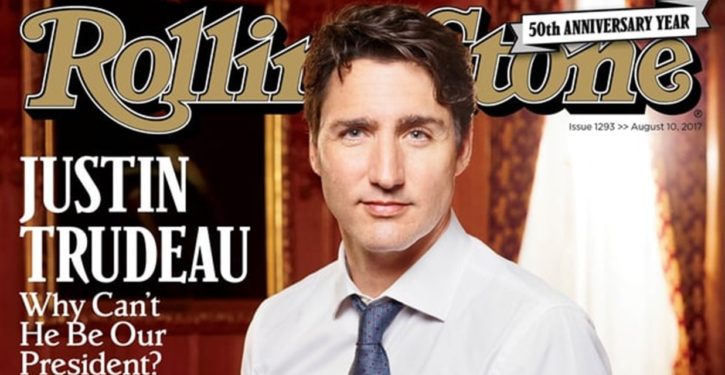 [Ed. – Now they're just babbling incoherently.]
Trudeau's skeptics have declared him "emotionally intelligent." This is Canadian for "the man is a mimbo." But that's not the case. Trudeau is the son of Pierre Trudeau, a 15-year prime minister and Canada's iconic 20th Century Man. …
He can come off like some modern dauphin; as a child, he traveled the world with his father, practically as a member of the prime minister's official envoy. He likes himself. A lot. (His critics call him "shiny pony.") Once, before a boxing match that would make or kill his career – more on that later – he was caught babbling Obama-like about his personal destiny. His wife, Sophie, grabbed his arm, looked him in the eyes and said, "Be humble." Sophie and Justin met in their hometown of Montreal, and Justin decided by the end of their first date that they would eventually get married.
Trudeau doesn't play golf; he snowboards. There is a real person inside him. A longtime dork, he used to throw himself down flights of stairs at parties for laughs. He went trick-or-treating last year dressed as the pilot, while his son Hadrien went as the prince, from The Little Prince,by Antoine de Saint-Exupéry.
And he has a quirky sense of humor that doesn't score points at the expense of his enemies. Trudeau, who is the equivalent of a centrist Democrat, ran on returning an optimistic "sunny ways" to governing after the almost decade-long reign of the Dick Cheney-like Stephen Harper.