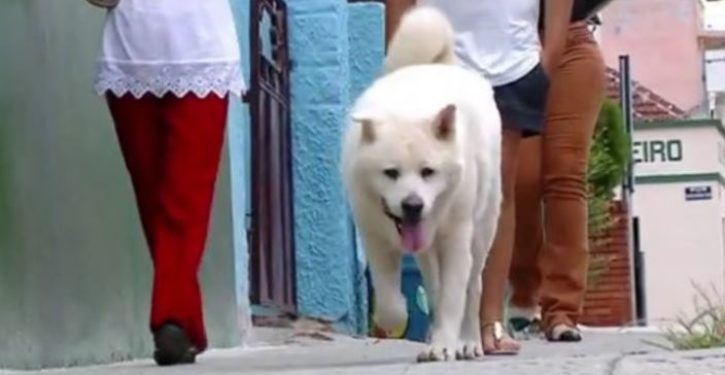 [Ed. – Sentimental journey]
Every morning, residents of Cacapava do Sud, Brazil, can expect to see Thor, a white Akita Inu dog, trotting through the town center on his daily walk. The dog walks alone, taking the same route that he and his owner would walk every day for years.
When Thor's owner, artist Claudio Cantarelli, died in December 2015 at age 58, the Daily Mail reports that the dog became depressed. Cantarelli's family took ownership of the dog, but neighbor Saionara Freitas noticed that they never had time to walk the dog or spend quality time with it.
"Thor stopped eating when Claudio died," she said, according to Metro. "He would lie in the courtyard of his house without moving for days on end."
[…]
Two years later, Thor has slowly began to overcome his grief. But, in what is seen by locals as a tribute to his owner, he still walks on the same route he and Cantarelli used take each day on their morning walk.
"[Cantarelli] went for a walk every day. He was everyone's friend, an artist," said friend and local hairstylist Airton Oliveira. "Now Thor walks along the same route. I notice he always stops in the same places. It's impressive."